Britain From Above
[3x60min BBC1, 3x30min BBC2 & 1hr BBC4, 2008]
Flagship BBC series using satellite & aerial photography to analyse Britain, presented by Andrew Marr. Directors: Cassian Harrison, Nic Young, Mark Radice, Chris Mitchell. Producer: Lion TV
* Runner-up: Best Music, Bulldog Televisual Awards 2009
* Best non-fiction programme, International Digital Emmys 2009
* Screen Graphics Award, Media Innovation Awards 2009
* Nominated for Best Documentary Series, Broadcast Awards 2009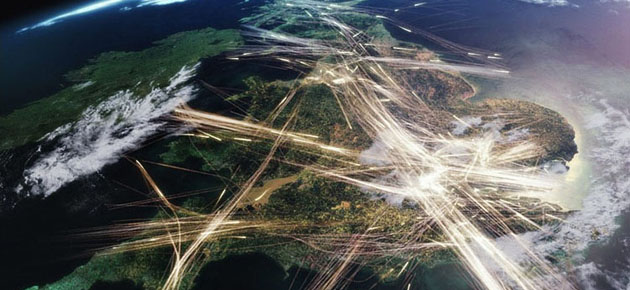 I worked on this seven-part series through much of the summer of 2008. It was quite a challenge as all the programmes were being made in a very short time frame, so I was having to work with several directors and editors simultaneously. But it was a great show to score, with very inspiring visuals and ideas, and I was very proud of the music I wrote for Britain From Above.
One of the nicest aspects of the job was recording the majority of the music with a real orchestra at Abbey Road. These days we've got used to hearing the sound of a sampled orchestra on most TV soundtracks but, as a composer, hearing your music played by a real orchestra is always infinitely more exciting. Unfortunately, it is also infinitely more expensive, and the budget meant we were only able to find one day of orchestral recording… and believe me, it was quite a coup to even get that! However, thanks to a lot of hard work, the talent of the London players and the indefatigable conducting of Simon Whiteside, we managed to get everything we needed recorded and sounding fabulous. I'm delighted that the soundtrack is soon going to be available on iTunes and other digital music stores.
The crazy schedule meant that the programme was not edited and then scored, but had a more back and forth approach, with a lot of the music being written while the shows were still in a very rough form. This is actually a pretty typical way of working these days, and can be quite a nice arrangement for a composer, since you can write 'complete' pieces without having to follow the visuals too slavishly. The editors are sometimes even kind enough to edit their pictures to your music…  but then sometimes it's your music they hack to pieces! I then had one or two days to look over each episode and revise cues once the edit was locked.
I have posted a few clips from the series below.
More video clips can be seen from the show can be seen at the official Britain from Above website.
I am delighted that the score for Britain From Above (which has just been made a runner up in the Best Music category at Televisual Magazine's Bulldog Awards) is finally available to buy on iTunes or Amazon.
Do buy a copy if you feel inclined, and don't forget to write a nice review if you like it!
*