Songs
This page is a potted history of my songwriting career to date.
Here's a song to listen to while you read.
Audio clip: Adobe Flash Player (version 9 or above) is required to play this audio clip. Download the latest version here. You also need to have JavaScript enabled in your browser.
For me, music began with singing. I started writing songs long before I began writing instrumental music of any kind, let alone soundtracks. I don't know exactly when I wrote my first song, but I have various scrapbooks of embarassing lyrics from when I was about eight or nine. Strangely, most of these were morbid and political – I was obsessed with Reagan, Thatcher, Gorbachev & nuclear holocaust! My first musical experiments were made messing around with a microphone on my dad's old Ferrograph reel to reel machine. You could change the pitch of your voice, or you could create an echo effect using the play and record heads… it was mindblowing!
My mum was a great singer, who had started at the Royal College of Music at 18, before dropping out to do other (and more useful) things with her life. But she often used to sing us folk songs on her guitar as me and my sister were growing up (I always preferred these to warbling arias), so I guess I must have picked up quite a bit from that. As a family we spent all our car journeys singing along to Beatles albums… up to but not beyond Sergeant Pepper!
My scraps of lyrics and tunes didn't find an audience, however, until I joined the band Syntax, with Nathan Cooper & Gabriel Prokofiev at the age of 11 (see the biog page for more info on this). Beginning on guitar and backing vocals with them writing all the music, I was soon adding my songs to the band's setlist, and also co-writing with Nathan & Gabriel. I think I was really lucky to meet such talented musicians so early in life, and it's pretty amazing to think that all three of us are still busy writing music and songs today.
The songs I started writing in the band (two early tracks were Goldfish Bowl and Land of Tomorrow), had pretty appalling teen-angsty lyrics (sample: "Don't tell me I'm crazy if I think a bit too much") but somehow they proved popular at gigs… probably because most of our audience were also full of teenage angst! Syntax stayed together for eight years and I learned so much from that experience about writing, performing and also about the industry; we had a couple of managers over the years, the main one having been the producer of Toyah and Marillion. It always looked like our big break was around the corner, and our hopes were permanently dashed. Like losing at your first five spins of roulette, you could say that's a good introduction to the music business, but somehow it failed to scare me away.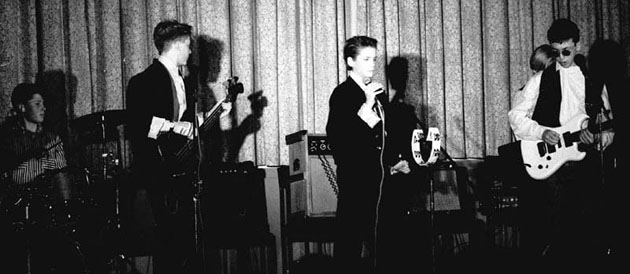 Syntax: first gig at Blackheath Halls (February 1989). L to R: Matt, John, Nathan, Gabriel (hidden), David.
In 1993 (aged 18) I was writing like there was no tomorrow… the songs with Syntax, my solo album, 'Pierrot Lunaire', and Jonton Rory my collaboration with Fergus Partridge (twelve songs recorded in a week). Somehow my lyrics seemed to retain most of their angst and vitriol throughout this time (sample lyric from this era: "The music's playing and the people pretend they're entranced. Everyone looks poor but all their parents have houses in France"). I've just managed to find a few cassettes in the attic (homemade CDs were a pipedream in those days!) so – for the first time ever in zeros and ones format, here is a languid track from 'Pierrot Lunaire' called Piano & Moths. A very belated thanks to Miranda Kimberley & Louisa Aldridge for playing oboe and violin on this piece (well, I'm sure I also thanked you at the time!)
Audio clip: Adobe Flash Player (version 9 or above) is required to play this audio clip. Download the latest version here. You also need to have JavaScript enabled in your browser.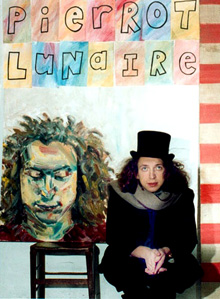 And here's a clip from one of the tracks on Stay With Someone You Know by Jonton Rory. The busy bass is very typical of my bass playing at that time – I couldn't just sit there playing root notes!
Audio clip: Adobe Flash Player (version 9 or above) is required to play this audio clip. Download the latest version here. You also need to have JavaScript enabled in your browser.
While at university, I was more excited about the sounds you could get out of a computer. My early recordings had been done on a four-track, and later we had access to an eight track reel to reel machine. But computers changed everything… the possibilities were disconcertingly endless. In this period, I carried on doing occasional gigs, and songs I wrote at this time included the bleak Fifteen Famous Minutes, the bastard child of William Blake's 'Lamb' from the Songs of Innocence and Nick Drake's Fruit Tree.
Audio clip: Adobe Flash Player (version 9 or above) is required to play this audio clip. Download the latest version here. You also need to have JavaScript enabled in your browser.
And also the gory Terry Wogan's Handsome Grandson.
Audio clip: Adobe Flash Player (version 9 or above) is required to play this audio clip. Download the latest version here. You also need to have JavaScript enabled in your browser.
There are times in my life when songwriting becomes the central thing I'm doing, and other times when other projects have to take precedence. Between 2002 and 2005 I got back into the songs in a big way, wrote a ton of new material and started doing regular gigs… which became increasingly ambitious affairs. Beginning with solo shows, I started promising audiences that I would not only play two new songs, but add a new instrument (usually a new performer) at each gig. More and more people had to fit on various poky stages around London, until I ended up doing a night at Blackheath Halls with a mini-orchestra of 15 players. Quite hard to organise, and I even started missing the days of being in a 'proper band' of four or five sweaty youths. I decided to make a list of all the fantastic musicians who have played with me at gigs over the years.
I also produced three mini-albums of songs, which you can listen to clips from and purchase here. This is Song for the Elves, a track from my 'Bats' CD…
Audio clip: Adobe Flash Player (version 9 or above) is required to play this audio clip. Download the latest version here. You also need to have JavaScript enabled in your browser.
And a clip from And the Strange Thing Is from 'Strange Little Animal'…
Audio clip: Adobe Flash Player (version 9 or above) is required to play this audio clip. Download the latest version here. You also need to have JavaScript enabled in your browser.

At the end of 2005, I collaborated with Mary Richards on 'ArtSongs', a CD of ten songs about art & artists for the Tate. This was a great project to work on; Mary was an art expert already, but I needed to do lots of research before I could write lyrics about Frida Kahlo, Jackson Pollock & the St Ives scene, among other subjects. My sister-in-law claims she has got lots of answers right on Who Wants to be a Millionaire? because of  'ArtSongs'…  maybe we should market it like one of those American self-help books that can make you a million? Anyway, they are certainly full of facts! You can hear some of these songs on the Agnes & Aubrey Myspace Page, or of course you can buy the CD from the Tate Shop or on Amazon. Here's is a clip from one the 'ArtSongs' about Kandinsky.
Audio clip: Adobe Flash Player (version 9 or above) is required to play this audio clip. Download the latest version here. You also need to have JavaScript enabled in your browser.

In the last couple of years I've been so busy with the film and tv work that I've not been getting much of a chance to write and perform my own songs. But it's such an important part of my creative life, that I get pretty sad if I don't use that half of my brain for an extended period… and so I'll be doing more soon. In fact I have a really exciting new band that I'm going to tell everyone about very soon. Watch this space.
There are many situations where my songwriting infiltrates the film & tv soundtrack work, whether it's working on full blown musicals like The Luckiest Nut in the World, creating theme songs, such as Tommy Zoom, or just writing songs for specific scenes as has happened in Silence Becomes You, Comrades and Sunny Intervals and Showers. Here's a clip from the song from Sunny Intervals, a feature documentary about a manic depressive, which closes out the film.
Audio clip: Adobe Flash Player (version 9 or above) is required to play this audio clip. Download the latest version here. You also need to have JavaScript enabled in your browser.
And here is a clip from Silence Becomes You where the score segues into a short song. Funnily enough, on this YouTube clip, lots of people are asking who wrote the song. Let's keep it a secret!
To round things off on this rambling page, here is my niece, Poppy Andrews, singing one of the songs from my 'Bats' album, Che. This was a few years ago when she was 12.
Audio clip: Adobe Flash Player (version 9 or above) is required to play this audio clip. Download the latest version here. You also need to have JavaScript enabled in your browser.
*
PS. The image at the top of this page of the beautiful reel-to-reel machine is taken from this site, where you can read more about this and other similar machines. Sadly, the review of my dad's Ferrograph Logic 7 begins, "This was an impressive machine by specifications but due to poor rubber and the constant wear on the heads, it proved to be a poor recorder". But it was no less exciting to me for that!
*