The Cat in the Hat Knows A Lot About That
[Series 1: 80 x 12min, Series 2: 40 x 12 min. Collingwood O'Hare for PBS Kids (US) & Treehouse (Canada), 2010-11]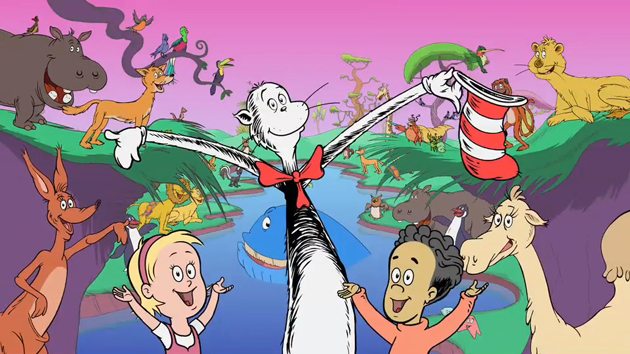 One of the most enjoyable projects I've worked on in the last few years is the animated series, The Cat in the Hat Knows a Lot About That. Based on characters from Dr Seuss's classic series of books, the Cat in the Hat (voiced by Martin Short) takes two six-year-old best friends Sally & Nick, on a host of crazy adventures to all corners of the globe. I wrote the theme and all the songs and incidental music for the series, which started airing in September 2010, on PBS in the US, Treehouse in Canada, and CiTV in the UK.
Since its launch the show has become the number one rated pre-school (2-5 year olds) show in both the US and Canada. In America two episodes are joined together into one half hour (no doubt ad-filled) extravaganza. I've been told it is now showing in 80 countries around the world, though please don't ask me to name them or their capital cities!
In May 2011, I was delighted to hear that the theme tune to The Cat in the Hat Knows A Lot About That had been nominated for the Daytime Emmy for Best Original Song. I suspected I may not have won when nobody phoned me offering to pay the airfare to the awards ceremony in Las Vegas! The song was also the winner of the award for Best Song for a TV Series at the first ever Cynopsis Kids Awards.
A second series (of 40 episodes, or 20 half hours) is currently in production, as is a very exciting hour-long Christmas Special for Xmas 2012.
Several DVDs of the series have been released in the US & Canada only (not available in the UK). Here is a link to the first of the set on Amazon (US),.
PBS site for the The Cat in the Hat Knows a Lot About That.