Biog
Photographic evidence reveals David as a happy, fearless child, who enjoyed an emotionally stable as well as physically active upbringing in Blackheath, South East London.

A brief, though passionate affair with the Sinclair ZX Spectrum fizzled out when David started learning guitar at the age of 11. After leaving primary school, he joined Age Exchange Youth Theatre where he got to know the die-hard new romantic Nathan Cooper (now in The Modern).

Nathan asked him to join his band, Syntax Error & their first performance was in David's house in early 1988 when the band were 12 years old. The line-up of this most pretty of boy-bands was Matt Klose on drums (now in Crazy P), Nathan and Gabriel Prokofiev (now in Spektrum and producing Lady Sovereign) on vocals and keyboards, and David playing his £80 Westone electric guitar.

John Williamson joined a month or so later, playing bass. Nathan & Gabriel were initially the main songwriters, but David (aka George Harrison) soon built up the confidence to write and sing his own songs and the band performed several of these at their first proper gig at Blackheath Halls in February 1989. After changing their name to Syntax, the band carried on recording and playing increasingly ambitious gigs until they were 18. The only other line-up change was in 1992, when Gabriel left and was replaced by Sean Myers (now a photographer). For an account of the band's history, have a look at the lyrics of David's 2003 song, The Ballad of Syntax.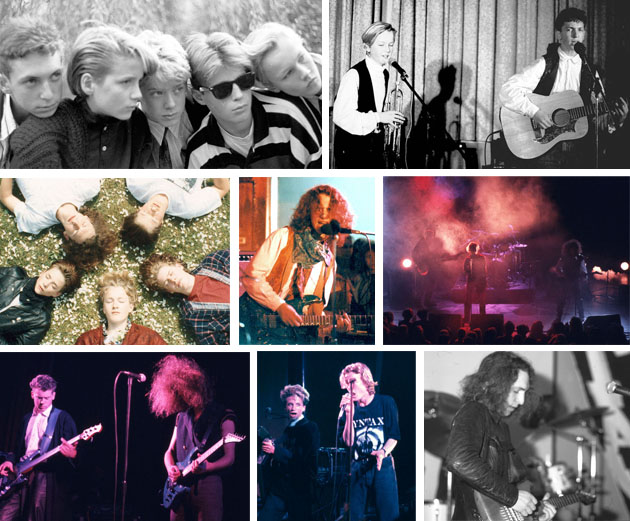 By the age of 13, David was also playing piano and clarinet and he started writing classical music. When he was 16, he wrote an hour-long Requiem Mass for choir & full orchestra, mostly during GCSE maths lessons. He aimed to write it in exactly a year, but it ended up taking a year and one day to finish. Although part of the requiem was performed by the school choir, no recording of it exists. Throughout his teenage years David's hair began to grow rather wild and this, combined with his penchant for wearing a poncho at gigs, earned him the moniker of Clint Hendrix. It is well-documented that around this time, David was obsessed with elves and even began inventing his own language with which to communicate with them (see his Song for the Elves, below). He was known to disappear with his guitar into woods and fields in the hope of talking to some of these creatures. It seems that no contact was ever made.

Audio clip: Adobe Flash Player (version 9 or above) is required to play this audio clip. Download the latest version here. You also need to have JavaScript enabled in your browser.
In 1993, David recorded three albums: Insect (with Syntax), Stay With Someone You Know (with Jonton Rory, a collaboration with Fergus Partridge, now in CodaVita), and his solo cassette, Pierrot Lunaire. Syntax eventually disbanded as the flaky managers failed to deliver the promised glory and riches.
While studying music at New College, Oxford (1994–97), David bought himself a computer and some gadgets for making music on it. He specialised in electro-acoustic music and orchestration, and wrote his dissertation on dance music. David began writing music for theatre and films in 1998. After collaborating with Jesse Chambers on the award-winning musical short, Inside Out Man he studied Screen Music at the National Film and Television School (1999–2001).
Since leaving the NFTS, David has scored over 100 projects for film & television, ranging from documentaries through animated series to feature films. His musical output continues to be as varied as when he was writing a requiem mass at one moment, and songs for elves the next. His scores have been broadcast on all the UK's main channels, been heard in every continent (except perhaps Antarctica), and have won awards and critical acclaim. See the CV page for full details of his work for film & tv.
There are of course many examples of his work on this website, but here is one of the tracks from his score to Britain From Above (BBC, 2008) the soundtrack of which is available on iTunes and Amazon.
Audio clip: Adobe Flash Player (version 9 or above) is required to play this audio clip. Download the latest version here. You also need to have JavaScript enabled in your browser.

As well as all his work on soundtracks, David still writes and records songs and plays gigs. As well as three of his own mini-albums, David collaborated with Mary Richards (as Agnes & Aubrey) to write ArtSongs, a CD of ten songs about artists, commissioned by the Tate gallery. See the Songs page for more details on this and other song-based projects. Here is a clip from our song about Kandinsky.
Audio clip: Adobe Flash Player (version 9 or above) is required to play this audio clip. Download the latest version here. You also need to have JavaScript enabled in your browser.

In 2006, David married Mary Richards and they have four young children. They live in South East London.

*